April 23, 2018
Two abstracts being presented this week at the annual conference of the American Academy of Neurology report positive outcomes from two treatments for autism. A third article on healthcare utilization reports double the cost for adults with autism.
A MitoCocktail was tested in eleven children with autism and mitocondrial (mt) dysfunction. Mt dysfunction is common in autism. The MitoCocktail contained carnitine, coenzyme Q10 and alpha-lipoic acid. Investigators Craig Newschaffer and colleagues at Drexel University conclude: "This small pilot study supports the hypothesis that in ASD MitoCocktail may have a therapeutic benefit, improving mt function and maladaptive behavior and speech. Larger placebo-controlled trials are needed to demonstrate efficacy."
A cannabis formulation was tested in 60 children with autism. The formulation contained a high amount of cannabidiol (CBD) and a low amount of tetrahydrocannabinol (THC). Improvements were seen in disruptive behavior, anxiety, and communication. Parents reported less stress. Israeli investigators Adi Aran and colleagues conclude: "This preliminary study support[s] the feasibility of CBD based medical cannabis as a promising treatment option for refractory behavioral problems in children with ASD." The investigators have now launched a large, double blind, placebo controlled cross-over trial with 120 participants. 
A study being published this week in a new journal, Autism in Adulthood, reports that total annual mean healthcare costs for adults with ASD are double the costs for the general population. The costs were higher for all age groups and both genders compared to the general population and compared to adults with ADHD (see chart). Lisa Croen and colleagues from Kaiser Permanente Northern California found that adults with autism have "significantly higher rates of utilization across most healthcare service areas".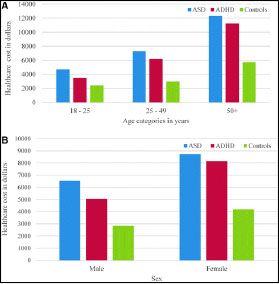 This study adds to the growing evidence of the heavy burden of health needs of the person with autism. The authors conclude: "More research is needed to determine reasons for these utilization differences and to develop strategies to improve delivery of healthcare to adults with ASD. Our study suggests that healthcare systems will need to plan ahead to adequately accommodate the needs of this growing and aging population."