December 17, 2014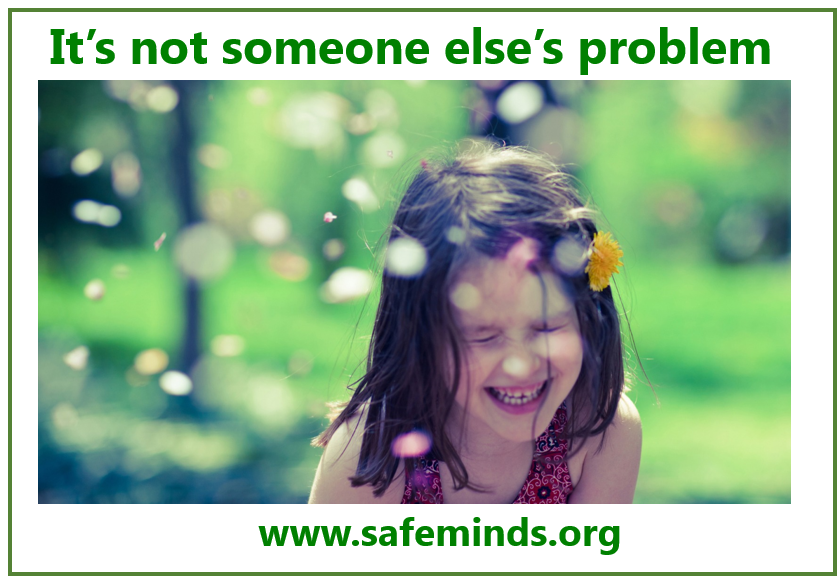 It's not someone else's problem.
It's not: Oh, look at that mom over there whose child is shrieking and kicking her in the face. Poor lady. He must have autism.
Or: Too bad for those parents whose daughter has a list of life-threatening allergies that's two pages long. You know the little girl I'm talking about: She has curly brown hair and plump cheeks and wears a medical alert bracelet. She knows how to self-administer an epi pen to save her own life if she has to. And she's only six years old.
There were four children in my daughter's third grade class with autism.
I want to talk about it with the 70-year-old buying toothpaste at the grocery store.
I want to read about it in every newspaper in America and every website in the world.
I want to scream it from the rooftops: America's kids are sick.
Something's going utterly and totally wrong.
We can all hide our heads in the sand and pretend it's not happening to us—pretend the exponential rise in autism spectrum disorders, Crohn's disease, allergies, asthma, childhood cancer, childhood obesity, attention disorders, and even suicides has nothing to do with us, has no effect on us, and isn't important.
And that's why I give money to SafeMinds.
I felt like someone sucker punched me when I saw my friend's 18-year-old at the Honda dealership pushing a trashcan across the oil-slickened parking lot.
He didn't recognize me.
He never recognizes me.
He was just plodding along with his garbage can.
I didn't ask his parents—I hardly see them now that our daughters aren't in the same class anymore—but I bet they're relieved, even proud, that Matt has something, anything he can do.
But the vacant look on Matt's face tore me to a thousand pieces.
Seeing Matt made me think about my own son, who has a learning disability that the teachers, speech therapists, reading specialists, and tutors he's gone to can't for the life of them figure out. He woke up this morning crying because he didn't want to go to school. His teacher belittles him, dismisses our concerns, tells us "he'll grow out of it." My son has yet to pass in a single assignment on time. Before you judge his parents, you need to know how hard we try. We work with him. We sit with him. We help him. We do our best to be patient with him.
But sometimes all the intervention in the world can't make a sick kid well.
What will my boy do when he graduates from high school?
Even if you're lucky enough to have neurotypical children who have big dreams and the capabilities to match them, how will they cope with a future where more than 1 in every 68 adults is on the autism spectrum?
Maybe you've been reading this blog for years or maybe this is your first time here and you've never even heard of SafeMinds before today but what you need to know is that the people who run this organization, 99% of whom are volunteers, spend countless hours helping children, educating parents, lobbying for a healthier, less toxic world.
When my son was born I cooked for the people who came to visit, cleaned the house by myself, graded papers. I paid the price with a raging breast infection. My mind went to horrible places. I felt desperate. I needed a support group. I needed people to talk to. I needed help. But I didn't know how to ask.
I'm getting better at asking for help, though I'd be lying if I said there wasn't a chastising voice in my head telling me that I should be able to do it on my own.
I'm asking now. For help. For SafeMinds. They don't have a fancy gift basket to entice you, they aren't putting up larger-than-life billboards in the airport like other, better funded non-profits. But they need your financial support. It's the end of the year and any donation you make is tax deductible. It costs a lot to run this website, send child health advocates to lobby Congressmen in Washington, pay for bandwidth, print brochures. You'll notice there's no advertising on this site, no supplements for sale, no nifty apps to download for $1. They need your financial support.
Their goal is to raise $25,000 before December 31. They can do this. If we help them.
I'm donating to SafeMinds. I want you to too. We all need to work together to end the epidemic of chronic and acute illnesses that are compromising our children's health.
For my children's sake.
And yours too.
~A donor to SafeMinds