October 05, 2015
By Lyn Redwood, RN, MSN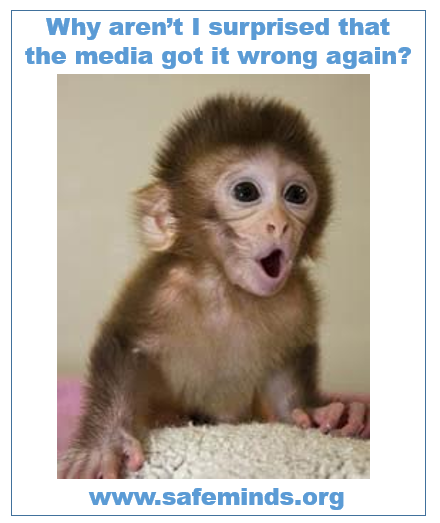 Wednesday afternoon we got a voicemail from a reporter at Newsweek asking SafeMinds how much money we spent on a primate vaccine safety study that was just published in the Proceedings of the National Academy of Sciences. We weren't sure why Newsweek wanted this dollar figure, and what relevance it had in the endless mudslinging in the vaccine-autism debates.
We sent the reporter this following statement:
"The epidemic of autism is expected to cost the country $1 trillion by 2025 if prevalence trends continue. In a recent study, over 40 percent of parents agree or strongly agree that vaccines played a part in the development of their children's autism. The vaccine primate study in question consisted of multiple phases. The initial phase found a series of negative effects in infant reflexes and brain growth among those exposed to vaccines. The second, recent phase purported to find no effect. SafeMinds has concerns about changes in the study design protocol and analysis that may have led to these contradictory results. We are in the process of collecting and reviewing additional information regarding this study."
The reporter, Jessica Firger, told us she was delaying her article until she could speak with us directly about the statement. We thought this was a good sign, so Thursday afternoon my colleague and SafeMinds Board President, Sallie Bernard, and I spoke with Firger for about 20 minutes by phone.
We explained that we had no preconceived notion of what the outcome of the study should have been but that we were quite perplexed that the recently published findings—that show no correlation between vaccines administered to primates and autism-like neuroanatomy and behaviors—are at such great odds with the scientific findings that have been reported from this study, both in published literature and in a poster presentation at a scientific conference in 2013, using the same monkeys that were reported on in the study.
Earlier findings of phase one of this study, which SafeMinds has been funding since 2003, were published in 2010 in Acta Neurobiologiae Experimentalis and the Journal of Toxicology and Environmental Health. Researchers then reported that the infant primates exposed to the vaccines displayed a different pattern of maturational changes in the brain and also evidence of greater total brain volume compared to the control group. And in the second publication that a single dose of hepatitis B vaccine routinely administered to human infants at birth resulted in significant delays in the development of root, snout, and suck reflexes compared to unexposed animals.
Disturbing indeed.
Multidisciplinary, observer-blinded, placebo-controlled studies that find vaccines have a negative impact on the brains of young primates.
Remember the headlines? The swift response by the CDC? The calls from the American Academy of Pediatricians to only give Hepatitis B vaccine to infants whose mothers tested positive for the disease during delivery and for further research into the safety of vaccines?
No you don't.
Because there was only one mainstream reporter who covered the story.
Why?
You tell me.
Could it be because an observer-blinded, placebo-controlled study showed that vaccines were causing clear and documented damage to infant primate brains?
In 2008 SafeMinds was approached to help support a second phase of the ongoing study. The researchers felt so certain about the connection between vaccines and brain abnormalities at that time that they were also planning to include a Phase 3 of research, which was to test treatments to help the primates recover from neurological damage.
Since our mission is both to end the autism epidemic and find effective treatments for those with the disorder, we were delighted to contribute more funding to the researchers to further their investigations.
Then a few years later in 2012 SafeMinds was approached again to provide funding for an additional arm of the study that would expose the primates to the 1990s vaccine schedule that was not accelerated to account for difference between human babies and monkey infants. At that time the researchers reported a significant decrease in Purkinje cell number and CA1 hippocampal cell size in monkeys given the 1990s vaccination schedule at an accelerated rate based upon much more rapid brain development of the monkeys vs. human. They said they wanted to be sure the findings that "parallel those observed in post‐mortem autism brains" were not due to the accelerated schedule of vaccine administration (and to satisfy any reviewer concerns at publication).
But in reading the research published last week, the part of the study that SafeMinds specifically was asked to fund was never conducted. The scientists chose not to look at the brains of the primates from this arm of the study. They have not communicated to us why they chose not to—and they have informed us via email that they are not permitted to speak with us about the study findings or the discrepancies in what was reported to us and what was published, but we can submit our questions in writing. And that is what we are currently doing.
Now you know the back-story.
An accurate headline for Newsweek's article, published Friday, October 2, would have been: "Scientists Publish Contradictory Research Results, Funders Are Asking Why." Or perhaps, "Vaccine-Autism Science Still Unclear."
Instead Newsweek's headline blares: "Anti-Vaxxers Accidentally Fund a Study Showing No Link Between Autism and Vaccines."
Fair and balanced reporting?
Accurate?
Plausible?
Not even close.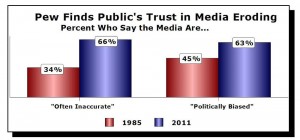 SafeMinds would like to get to the bottom of the discrepancies in the science. Our overall goal is to understand what is driving the autism epidemic and to prevent these injuries from occurring and to help restore children's health.
We don't have a preconceived idea about what the science should show, as Firger so inaccurately reported.
But we are baffled: Why would we have been told for ten years that the researchers had found abnormal brain findings and development among the macaques if none existed? Was all of this research done incorrectly? Are all of the previous findings false?
What is the real story? The real story is simply this: Right now your child has a 1 in 68 chance of having autism. One in 68.
Think we should keep business as usual and not ask any questions about what might be triggering this epidemic?
I don't.
I have been interviewed by the media hundreds of times. Time and again, the media skews what I say, takes quotes out of context, and uses half quotes to discredit me and downplay my credentials and expertise.
So why given this past history with the media do I continue to do interviews?
I still have hope that a reporter out there will tell the real story and fairly represent both sides without all the hyperbole and bias.
My colleague and friend Louis Conte said it best in a recent email exchange with a reporter regarding the autism community's frustration with the media's inability to investigate and report accurately about autism and vaccines: "You or one of your colleagues might save thousands of children from lives of pain, bring some measure of justice to those already injured, help make vaccines safer and become a damn national hero."
You are so right, Lou, so I'm still waiting for that reporter to step up to the plate.
---
HOW SAFEMINDS IS HELPING
Bringing matters like these to your attention is one example of how SafeMinds is helping create a safer world for our children.  You can help us continue our work by donating to our Policy and Justice Fund, our Making a Difference Research Fund, or our Parent and Family Education Fund, or by contacting us to volunteer.
---
Lyn Redwood, R.N., is a co-founder of SafeMinds and a champion of children's health.