December 18, 2015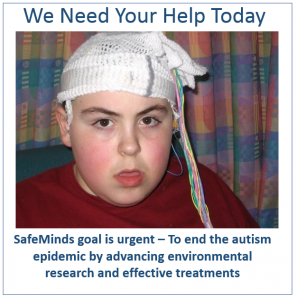 1 in 45 American children has autism. Just three years ago, 1 in 88 children had autism. The rate has almost doubled in three years. I want to know why, and I want to stop it.  And so does SafeMinds. 
SafeMinds knows that many people with Autism suffer from sometimes life-threatening co-occurring conditions, like intractable diarrhea, painful constipation, and other gastrointestinal problems; seizure disorders; wandering/elopement from safe environments; and suicidality.  SafeMinds does not accept this as normal or allowable, and neither do I.
I see signs of the epidemic every week.   The child at the grocery store who has been kicking and screaming for 25 minutes. The ambulance at my neighbor's house that I've seen for the fourth time this year since her son with autism suddenly started having seizures, and doctors still don't know why. The crying calls from my friends as they agonize to find secure residential treatment facilities for their children with autism who are violent.
I WANT TO SOUND AN ALARM THAT WILL BE HEARD IN EVERY STATE CAPITAL AND IN EVERY HOME IN AMERICA:  IT'S TIME TO WAKE UP!
AUTISM AFFECTS MY FAMILY.  AND THE CHANCES ARE INCREASING EVERY YEAR THAT IT WILL AFFECT YOUR FAMILY, TOO, IF IT HASN'T ALREADY.
Every year, more kids are diagnosed, and no one seems to have any answers as to why or how to address it. The only governmental organization tasked with addressing federal autism policy didn't even meet for 14 months. Is this problem not urgent enough?
AND THAT'S WHY I JOINED SAFEMINDS.
SafeMinds is dedicated to finding the causes of the autism epidemic that can be changed. THAT will lead to prevention and decrease autism prevalence. SafeMinds wants to discover how our environment interacts with our biology to lead to the current high rates of autism. They are already using the scientific knowledge they have to help parents make choices to address the epidemic of severe autism. They won't stop until they find the answers we all need to end the dramatic and costly rise in autism.
I often consider my son's cousins. They are not much older than he is, and when they are taxpayers, in addition to caregivers, they will have tremendous responsibilities.  How about your family members?  How will our country's future be shaped by the autism tsunami in generations to come? We need to act NOW.
WE CAN CHANGE THE FUTURE TOGETHER
This November, I spoke before the federal Interagency Autism Coordinating Committee (IACC) and asked the federal government for four work groups:
Environmental factors that may contribute to the rise in autism prevalence
Autism and wandering/elopement—a problem that affects 49 percent of people with autism and has resulted in the death of at least 30 people with autism since May 2015
Co-occurring conditions—including gastrointestinal disorders, seizure disorders, wandering/elopement, and suicidality
Caregiver support—this marathon takes a toll on caregivers emotionally, physically, and financially.
In January, I'm going before this organization again. I'll hold them accountable. With your help, we'll hold them accountable together.
This year, SafeMinds co-founded the Autism Safety Coalition. I've got a child with autism, and a career background in public safety administration before autism changed my world. Together, we are going to make people with autism safer. The Coalition is working to pass Avonte's Law Act of 2015, which provides funding to support training on autism and wandering for law enforcement.
WE NEED YOUR HELP
SafeMinds is a national 501(c) 3 nonprofit organization that's been operating for almost fifteen years.  It's the end of the year, and any donation you make is tax-deductible. It costs a lot to run our website, print educational materials, fund research, and send child health and public safety advocates to educate congressional staffers and presidential candidates in Washington, D.C.,

Our goal is to raise $25,000 by December 31st.
And we can do this.  With your help.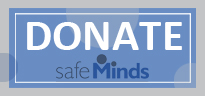 I've donated to SafeMinds, and I want you to, too.  We all need to work together to end the epidemic of chronic and acute illnesses that are compromising our children's health, and overwhelming our families.
For all of our children's sake.
Thank you,
Lisa Wiederlight
Executive Director