April 21, 2015
By Heidi Roger, SafeMinds Board Member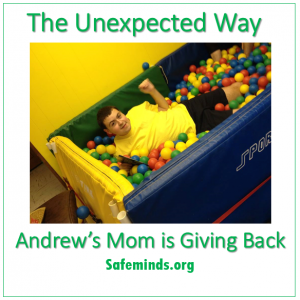 I'm sending one to that guy behind the pizza counter. The one who helped Andrew after he was mistakenly left on the school bus by himself and somehow managed to pry the bus door open and cross Main Street without getting hit by a car. The pizza man could have ignored him or pushed him back out the door. But he smiled at my scared boy, gave Andrew a slice of pizza, called the police, and sat with him until my uncle came to pick him up. All this even though 8-year-old Andrew couldn't talk and wasn't able to tell him what had happened.
I'm sending another to my friend's husband who stood between me and my raging son at a autism-friendly Broadway Play concession stand during intermission, letting Andrew dig his nails into his arm, before managing to calm Andrew down.
And to the neighbor who quietly folded her parka and put it under my friend's toddler's head during an epic meltdown in the produce aisle.
I don't care what you've been reading on-line during Autism Awareness Month (is it over yet?) about how much richness autism has brought into people's lives. It is hard to feel thankful when your child has autism.
I love my son more than I could have ever imagined, but after 17 years of doctors, therapies, IEPs, supplements, fundraising, legislation, conferences, seizures, EEGs, medications, and—most recently—episodes of aggression against me and his father, "burned out" is a more accurate description than "grateful" of how I feel.
The new horizon of searching for work programs and group homes is threatening to punt thankful completely out of the park.
But I found a few moments this past weekend to get more organized and throw out some old papers. I'm trying to avoid having the people from one of those hoarder shows knock on my door. Going through my stuff brought back memories of the amazing moments of this journey and some of the amazing people, like that pizza man, who I've met on the way.
My grumpy overtired burned-out self, the one with bruises on her arm where her son dug his fingers into her and wouldn't let go, and bags under her eyes, realized something: Even some of the most heartbreaking stories have a silver lining sometimes.
I'm not grateful for autism, but I am grateful for the people it has brought into my life.
My day job is in financial management. As a bean counter, I put a checkmark on the "man is good" side of the spreadsheet for all those people who have helped me and other families in the autism community.
I may be more at home using comedy to battle the burnout than gratitude but we here at SafeMinds have come up with a way for all of us to say thank you to the people who have touched our lives.
For just $10 we will send one of these beautiful eCards to the person of your choosing. Your tax-deductible donation benefits SafeMinds.
(Studies show that people find happiness, peace of mind, and feel less stress when they practice gratitude and give to others. Take that, grumpy self.)
Ready? Set? Go! Tell all your friends. And have them tell two friends. And … oh if you are old enough, you will get that. And keep watching for new eCards for Mother's Day, Father's Day and my birthday!
And, oh yeah, THANK YOU!
Heidi Roger, a founding member of SafeMinds, is treasurer and chair of the Fundraising Committee. She has one son, Andrew, who has autism and began speaking when he was 11 years old.  Read a post about Heidi and her son here, read what Heidi has to say to Jimmy Kimmel here, and find out more about SafeMinds' executive board here.