August 04, 2016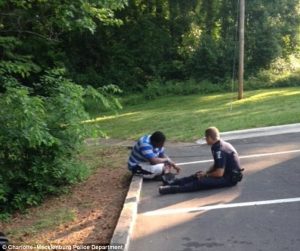 Charlotte-Mecklenburg police officer Tim Purdy sits next to a young autistic high school student who left the campus and may have been suicidal. Officer Purdy established trust and a relationship that allowed officers to get this young man the help that he so desperately needed.
Senate Unanimously Passes Kevin and Avonte's Law, S.2614
By Lisa Wiederlight, SafeMinds Executive Director
On July 14th, the U.S. Senate unanimously passed S.2614, "Kevin and Avonte's Law Act of 2016." The bill provides for Department of Justice grants to be used for the development of training and emergency protocols for school personnel, to supply first responders with additional information and resources, and for locative tracking technology programs to assist the families and caregivers of individuals who may wander from safe environments because of a medical condition. Grant funding may also be used to establish or enhance notification and communications systems for the recovery of missing children with autism.
Since 2011, over 500 individuals with autism have gone missing long enough to prompt search efforts, some costing as much as $2 million for one search. A 2015 study found that 27 percent of children with developmental disabilities are reported to wander from safe settings each year. In 2015, 31 individuals with autism died from wandering. Kevin and Avonte's Law was named in honor of two young boys with autism who perished after wandering from safety. They are: nine year-old Kevin Wills of Jefferson, Iowa, and 14 year-old Avonte Oquendo of New York City.
Both Senate Judiciary Committee Chairman Chuck Grassley (R-IA) and Senator Charles Schumer (D-NY) collaborated on the legislation, which was supported by the Autism Safety Coalition. SafeMinds is a founding member of the Coalition. Additional co-sponsors include Senators Thom Tillis (R-NC), Richard Durbin (R-Ill), Christopher Coons (D-Del), Amy Klobuchar (D-Minn), Richard Burr (R-NC), and Bill Nelson (D-Fla).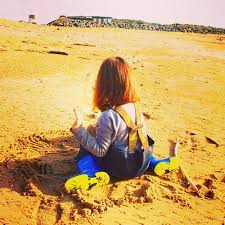 This legislation is greatly needed to improve the safety of people with autism. As Senator Grassley stated, "By preventing similar tragedies in the future, we can honor the lives of Kevin, Avonte, and others who lost their lives because a medical condition caused them to wander from safety."
SafeMinds is thankful for the work of Senators and their staff from both sides of the aisle, and the many police administrators who contacted their senators to ask for support of the legislation. In addition, we are thankful for the partnership of many different organizations within the autism community on this bill. We look forward to continuing our work as the companion bill, H.R.4919, makes its way through the House of Representatives, and will also reach out to you, our supporters, to activate our grass roots network this month!