February 10, 2016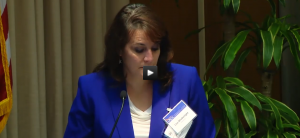 SafeMinds Executive Director Testifies at IACC Meeting.
To view full video click on arrow above.
Ms. Wiederlight's testimony starts at 03:26:00
SafeMinds Executive Director Lisa Wiederlight testified in front of the Interagency Autism Coordinating Committee (IACC) in January to ask its members to immediately establish the four work groups SafeMinds recommended at the November 16, 2015 meeting. The work groups are:
1) Environmental Factors that May Underlie the Rise in Autism Prevalence
2) Co-occurring Conditions with Autism
3) Autism and Wandering
4) Caregiver Support
Ms. Wiederlight's full testimony is below:
My name is Lisa Wiederlight. I am the mother of a 15 year old son with autism, and executive director of SafeMinds, a national nonprofit organization whose mission is to end the autism epidemic by promoting environmental research and effective treatments.
In November, I asked this Committee to form four workgroups to address the urgency of the autism crisis. I am told that you must begin to formulate a Strategic Plan immediately, and so I ask that these workgroups are established today, to inform the Strategic Plan document.  The four workgroups are: (1) Environmental Factors that May Underlie the Rise in Autism Prevalence; (2) Co-occurring Conditions with Autism; (3) Autism and Wandering; and (4) Caregiver Support.
Workgroup 1: the Environment. Autism is an urgent issue for this country—in terms of the safety, health, and welfare of people with autism and the skyrocketing costs to American taxpayers. As you know, autism prevalence has increased from 1 in 88 in 2012 to 1 in 45 in 2015, according to the U.S. Centers for Disease Control and Prevention. With a number of potential environmental causes tentatively identified scientifically but no policy in place to utilize these findings for prevention, it is unlikely this number will cease its downward spiral anytime soon.
A UC Davis study published last year in the Journal of Autism and Developmental Disorders found that the total costs for caring for all people with autism spectrum disorder in the US for 2015 were $268 billion, and this number is forecasted this cost to rise to $461 billion in 2025. One of the study authors remarked that the current costs of ASD are more than double the combined costs of stroke and hypertension, and are on par with the costs of diabetes. A UC Davis news release stated that "If ASD prevalence continues to grow as it has recently, the costs will likely far exceed those of diabetes in 2025." Where is the urgency to address prevention from modifiable environmental risk factors?
Workgroup 2: Co-Occurring Conditions. According to a study published in the November 5, 2015 issue of the British Journal of Psychiatry, people with autism are more than twice as likely as their peers in the general population to die prematurely. The study found that the risk of suicide in individuals with mild autism is about 10 times higher than in the general population. The most common cause of death among people with severe autism is epilepsy, which affects up to 40 percent of people with autism. Approximately 49 percent of people with autism wander from safe environments, as this Committee knows. Sadly, in addition to the over 30 people with autism who wandered and died in 2015, the autism community learned on January 2nd that a five year old child with autism wandered and drowned in Allentown, Pa. Serious co-occurring conditions are REAL and they can be DEADLY.
Workgroup 3: Wandering.  We cannot wait to solve the problems that families facing autism address every day, especially when there are seemingly simple things that can be done to affect change. In November, SafeMinds asked that the IACC coordinate with the legislative affairs offices at HHS and the U.S. Department of Justice to support Avonte's Law Act of 2015, S.163, which provides funds to support law enforcement training on autism and wandering. If you have not already done so, please do this today. There are many opportunities for cooperation and collaboration among persons with autism, parents, educational professionals, autism service providers, and public safety practitioners related to addressing the wandering issue. A workgroup on wandering is a sound mechanism to coordinate Federal response to this critical need.
Workgroup 4: Caregivers Support. For many families, the past two months since the November IACC meeting were not easy, slow, or uneventful, especially those families facing autism. There's the autism parent whose child had his second seizure and now has epilepsy, which does not run in the family. There's the autism parent whose child was extremely aggressive with her as a result of a bad reaction to a medicine, and who had the police at her house three times in four days—except that the police did not have any training in addressing autism, and try as they might, they could only put a band-aid on the problem. There's the autism parent who, while working full-time as a single parent, had to prepare for, and advocate for her son at a school IEP meeting and then give feedback on a behavior intervention plan by herself. And what if I told you that "that autism parent" was the same parent who endured all of what I described in the past two months since the IACC last met? That family, unfortunately, is one of too many. Caregiver support is ESSENTIAL.
We are one-third of the way to reauthorization of the Autism CARES Act of 2014, and HHS has not yet fulfilled its legal requirement to designate an existing official within the Department to oversee, in consultation with the Secretaries of Defense and Education, national ASD research, services, and support activities.  Consequently, the IACC is now the Federal government's only autism policy-related body.
A great majority of what the IACC has supported in the past is academic research—very little of which has helped families facing autism every day, including my own. We need public policy making and best practices research now, more than ever.
Today you are faced with a great opportunity—because, the autism crisis demands urgency, and, as my mentor Ellen Camhi used to say, "Democracy is not a spectator sport."  One tenet of effective public policy development is consulting with relevant stakeholders in the formulation of public policy.
Workgroups provide a mechanism to involve subject matter experts from outside of the IACC to make the most effective policy recommendations to the HHS Secretary, including, but not limited to, people with autism who are not able to participate regularly in IACC meetings due to the characteristics and/or the severity of their autism, caregivers across the country, environmental health experts, toxicology specialists, gastroenterologists, and public safety professionals.
We are hopeful that the workgroups will be established today, so that significant, measureable, and positive changes in the lives of people with autism and their families will occur as soon as possible.
Thank you.