February 12, 2015
By Katie Weisman, SafeMinds Board Member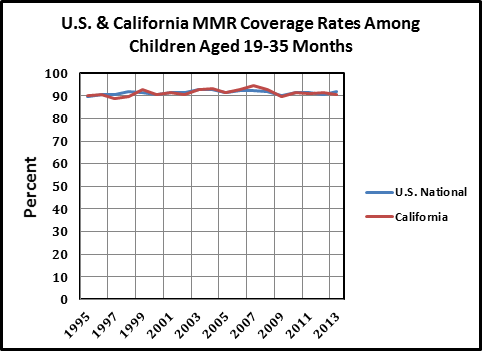 As my colleague Lyn Redwood has been blogging, it's been several weeks now since the mainstream media has been infected by a measles frenzy. News outlets in America have been spending an inordinate amount of time and resources reporting on the outbreak of measles cases we have seen in the United States. Many of these reports have focused on vilifying parents who have concerns about vaccine safety. An op-ed in the Washington Post has suggested revoking the medical licenses of American doctors who question the current CDC vaccine schedule and speak publicly about vaccine safety.
The media has insisted that the current measles outbreak has been caused by parents who chose not to get their children the MMR vaccine.
But if you look at the data compiled by the CDC itself, you will see that this may not be true.
The National Immunization Survey, performed by the CDC, shows MMR coverage rates to be as high as ever. About 91.5% of American children and 91.4% of children in California between the ages of 19 and 35 months received the MMR vaccine from 1995 to 2013, the most recent year for which we have data. In fact, while the number of people getting measles in any given year has varied, national MMR coverage rates have consistently exceeded 90% in the United States since 1996.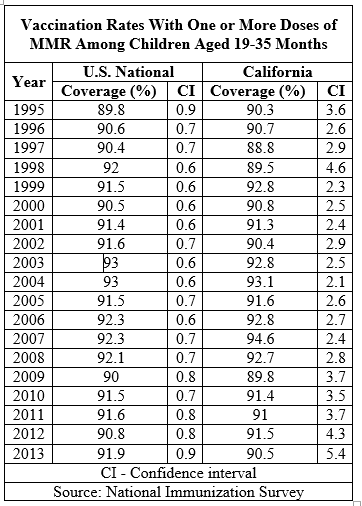 This information, hidden in plain sight, is available to the public for download here.
Measles vaccine uptake is high in the United States, and it has not changed significantly in the past decade.
I'll say it again, just to be clear: Despite some small pockets of lower MMR vaccination rates, the measles vaccine coverage around the country is not dropping. Though San Diego (where the outbreak was first reported) does have some communities with lower-than-national-MMR-vaccine-compliance rates, there are measles cases in 17 states around the country. Most of these places are not "pockets" of unvaccinated children.
Given that vaccine compliance rates are so high, why are we seeing this incessant news about low vaccine compliance rates and the need for elimination of exemptions? It makes no logical sense on the surface.
If you can take a deep breath and step back for a second, whatever your opinion about measles and vaccines, I'd ask you to think about the fact that Merck produces the only two licensed products for measles in the United States and that Merck is currently facing two significant scandals regarding the MMR vaccine:
CDC whistleblower says data has been falsified: A senior CDC research scientist, who has been granted whistleblower status, Dr. William Thompson, has admitted that information about the MMR vaccine and autism risk was falsified by the CDC. They buried an increased risk of autism in African American boys who received the MMR vaccine before three years of age.
Merck is being sued: Two scientists who worked for Merck are suing the company for falsifying information about the efficacy of the mumps portion of the MMR vaccine. The two scientists in question allege that Merck falsified data and engaged in fraud in order to meet requirements of the government contracts that Merck wanted. Read the judge's memorandum in PDF form here.
My point here is not to discuss people contracting measles (and obviously we don't want that to happen). My point is to make people think about why this news story is behaving like a runaway train.
What better way to protect your financial interests and reputation than to pump up a measles story that probably would have lasted a few days? What better way to make your product "bulletproof" in the eyes of the public and legislators? Blame the parents in the press to divert attention from some real problems with this vaccine. And ignore any inconvenient facts, like the high rates of MMR uptake in the United States.
Katie Weisman is the mother of identical triplet boys who all have autism. After a career as a technical designer, she is now a full-time mom and autism advocate. She has been a Special-Ed PTA co-chair, co-chair of BASS, a support group for spectrum parents, and has worked on state and federal legislation. She has also worked with local police to develop Kind Find, which provides training for local law enforcement and a way for parents to register disabled children with the police in case of an emergency. All three of Katie's sons have mercury poisoning, which she believes is the primary cause of their disability. She chairs the SafeMinds Government Affairs Committee and sits on the Research and Environmental Committee. She lives in Mount Kisco, New York with her husband, Doug, and sons.