October 23, 2014
By Lyn Redwood, R.N., M.S.N., SafeMinds Vice President & Co-Founder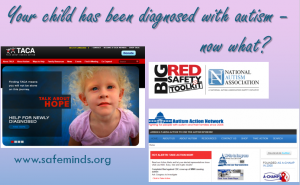 Your child's been diagnosed with autism. Your voice is hoarse from talking to doctors, your parents, your friends. You're feeling a thousand conflicting emotions about this autism diagnosis: confusion, anger, sadness, shame, guilt, worry, fear, relief, fight. I've been right where you are. It's not a fun place to be.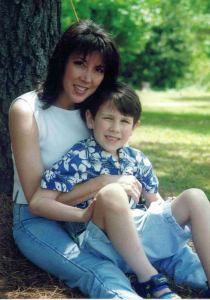 As much as I love my son, and all our beautiful children, it's not a place I would want anyone to have to go. Here's what parents say about getting an autism diagnosis:
"I cried once after the first visit to the speech therapist but when the developmental pediatrician actually diagnosed him, I just got to work. I got on the computer and stayed up to 1 AM every night finding any information out there and meeting every other parent I could, going to any doctor I thought might help."
"I was frantic that I needed to do something NOW but unable to find a doctor that would listen to me about regression after vaccines, that my child was sick."
"I felt anger that my child wasn't being pulled from the well like a child in Texas. (A two year old, Jessica, fell in the well at around the same time and the entire town came out and spent $2 million to rescue her.) Where were the people to help me get my son back? Didn't he matter?"
"I felt confusion over a litany of new procedures and rules of the education system that I now had to negotiate to get my son what he needed, frustration no one seemed to get what was going on with him medically, and complete disbelief that the usual way of teaching autistic children at the time was sticking them off in another room."
"I knew something was up since she was a baby but she was very high functioning so the doctors we consulted brushed if off. They told me it was a parenting issue, that she socially immature. Comments like this reinforced my feelings of self-doubt and guilt. She was diagnosed with autism when she was nine. To finally have someone validate what I have known since she was a baby was incredibly freeing."
"My parents are from South Korea. They started saving for my son to go to college from the moment I told them we were pregnant (first grandchild.) Now the doctor was saying he might never be able to speak. So much for Harvard."
For us, not knowing what was wrong with our baby was the worst. At first we thought he might have a brain tumor because of the developmental regression. We both cried with relief when the MRI ruled that out, but we still didn't know what was wrong. If you don't know what you're fighting its impossible to develop a plan of attack. For my husband (who is a doctor) and me (I'm a nurse), it was a relief to finally have a diagnosis of autism because then we had something we could attack. If your child's just been diagnosed with autism, here's my best advice gathered from twenty years in the trenches with this issue. I hope some of it will help you.
Let yourself feel everything you feel: Please know it is okay to be mad, sad, angry, and immobilized all at the same time. You will feel a variety of conflicting emotions. It is even okay to wallow in self-pity a bit. Let yourself grieve, if that's your reaction.
Don't blame yourself: It is natural to try and understand why this happened to your precious baby but please don't blame yourself or your husband. Autism is not your fault. We all do the best we can with the information we have at the time.
Get to work: Now that we've got the self-pity out of the way (see #1), you need to get to work. Taking charge will make you feel less helpless. Information is power, and there is so much more information now than there was 20 years ago and much of what available is free on the Internet. See below.
Don't believe everything you are told about autism: We were told our son may never talk and that we would probably need to institutionalize him. Today he is a junior in college and on the Dean's List! Well meaning health care professionals aren't trying to scare or discourage you, but they often do. You may have a child who is severely affected by autism who won't be able to go to college no matter what you do. But you may have a child who CAN and DOES recover. You know your child better than any health care professional. And no one should tell you what your child will not be able to do.
Plug into a network of other parents: Parents who also have a child diagnosed with autism will often be your best support because they know what you are going through and they are going through it too. For me, they have also become my best friends! I have found other parents to be my number one go to source for everything autism, from finding the best doctor or speech therapist to just to being able to vent to someone who you know knows firsthand what you and your family are experiencing.
Join TACA. Talk About Curing Autism (TACA) has been providing no cost resources to families living with autism for over a decade. They have a wonderful resource available online called the Autism Journey Blueprints. The blueprints provide a step-by-step guide that will help you to determine appropriate interventions along with a timeline for when to take action in the realms of medical and dietary interventions, education, services, finances and home life. TACA also offers trained parents mentors to help guide you on the autism journey. You can connect to TACA via their website, phone (855-726-7810), email, and even Live Chat. So consider joining TACA—it's free and takes 2 minutes.
Autism-proof your house. You need to do this now. One of the most frightening things we experienced with our son when he was just a toddler was that he would take off and never look back. If your child also wanders you need to go immediately to The National Autism Association's Big Red Safety Box and download the safety kit for caregivers. Unfortunately wandering and drowning incidents remain a leading cause of death among those with ASD. The National Autism Association provides direct assistance to families and law enforcement agencies as free downloadable toolkits as a means to educate, raise awareness, and share simple tools that may assist them in preventing, and responding to, wandering-related emergencies.
Educate, educate, educate! Use the Internet, but be wary of everything you read about autism. If it seems too good to be true it may well be. There are a lot of wonderful free resources available but there are also a lot of people who prey on families with autism by promising them expensive miracle cures. Be sure to check out the webinars available at the Autism Research Institute. The ones that discuss the medical conditions associated with autism by Elizabeth Mumper, M.D. are especially helpful. The Age of Autism is a free daily web newspaper that is also a good place to keep up with current events and research surrounding autism that typically are not covered by the mainstream media.
Uncover and treat your child's underlying medical problems: Speaking of medical conditions, research has now documented what parents have been reporting for years, that our children with autism are sick. Many of the behaviors that in the past were just considered to be a "normal" part of autism have now been found to be caused by underlying medical problems that our child can't tell us about. Widespread medical problems are common and typically involve the gastrointestinal, immune, metabolic, and neurological systems. Parents' report that once these underlying disorders are investigated and appropriately treated, often times the child's behavior also improves dramatically.  So it is also critical for you to find a doctor who specializes in diagnosing and treating these underlying conditions. The Medical Academy of Pediatric Special Needs is a good place to start. Also talk with the families in your support group or find an online community of knowledgeable parents, such as the Thinking Mom's Revolution.
Take "Action for Autism": The Autism Action Network (AAN) is a national, non-partisan, grassroots, political action organization formed by parents in support of children and adults with autism, vaccine injuries, and neurodevelopmental and communication disorders. AAN is dedicated to advancing public policy issues affecting people with autism and related disorders, protecting their human and civil rights, educating the public and media, supporting candidates sharing their goals in state and federal elections, and holding government officials accountable who do not act in the best interest of people affected by autism and related disorders. Go to their website and get inspired to take action.
Don't neglect your other children or your spouse. I know. It's so hard. You are consumed with helping your child. But you also need to make special time for your other children, who are also going through their own process of adjusting to your family's new reality, and your spouse. In the best of all possible words, your spouse is your biggest ally and friend, the only other person in the world who cares as much about your child as you do. (I know that the best world isn't always the real world.) As impossible as it feels to find time for intimacy and plain old fun with your partner, do it! It's important not to neglect that relationship.
Make time for yourself. I've saved the best—and most important—for last! You have to be kind to yourself. You have to make time for yourself. You have to realize that you can't help your child—or anyone else—if you are not getting the help that YOU need too. You know how on the airplane the stewardess tells you to put your oxygen mask on first BEFORE helping other passengers? Whatever your oxygen mask is: good friends, a weekly massage, therapy, time to read or watch TV, exercise, don't forget to put it on.
It's been 20 years since my son was born. I had really hoped that the epidemic of autism would have ENDED by now and that this blog post would not have been necessary. Instead the opposite has happened. More children than ever before, especially boys, are being diagnosed with autism. Our Federal agencies are still clueless as to what is causing this epidemic and what can be done to prevent it. The only good news in all of this is that some of the children diagnosed with autism today seem to be less impaired than the children diagnosed in the 1990s and they also seem to be more responsive to treatment. But that is not enough. We are facing an autism health crisis of epic proportions that concerns every America, and the mainstream media only wants to talk about Ebola. If your child has been recently diagnosed with autism, you are joining a club you never wanted to belong to in the first place. Today you feel like you can barely breathe. But you will soon be the torchbearer, fighting to make life better for your child, your family, and our entire country. Those who come before you and are already in the fight, like me and all my colleagues at SafeMinds, don't wish this burden on you—or on anyone. But at the same time we're glad you're here and that you are taking steps to be the champion for your child, to continue the fight, and as Chicago lawyer, autism activist, and SafeMinds founding member Liz Birt always said, to "Never, Never, Never, Give Up!"
Lyn Redwood is a registered nurse and a mother of three who has been researching and writing about autism for almost 20 years.
How did you react when your child was diagnosed with autism? What helped you the most during that time? If you've just received an autism diagnosis, what kind of support do you need? Share your stories with me—and all our readers—in the comment section below. And check back next week when I'll be sharing critical and candid information from doctors who specialize in treating children with autism and what they wish every parent knew.