April 20, 2016
Caregivers who take care of their loved ones with autism need to be taken care of too. As part of its Safe Minds/Safe Bodies campaign, SafeMinds outlined the need for a Federal response to autism caregiver needs in public comments before the Federal Government's Interagency Autism Coordinating Committee (IACC) on November 16, 2015. To read an earlier blog post our public comments on this issue to the IACC, click here.
SafeMinds supports the RAISE Family Caregivers Act introduced last year in Congress to develop a national strategy on caregivers. In this weeks blog, SafeMinds guest writer Dave Hellman, a health and nutrition expert, tells our autism caregivers how to stay well in order to help the person with autism they love.
THE SECRET WORD IS SELF-CARE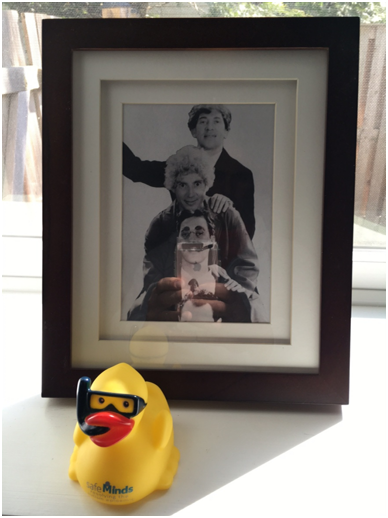 When I first met with the leadership of SafeMinds and was presented with a SafeMinds "It's a Ducking Epidemic" duck, it brought a smile to my face as my mind wandered back to the Marx Brothers who were obsessed with ducks (says the guy who was obsessed with the Marx Brothers).
One way their obsession manifested itself was on a game show that Groucho hosted called You Bet Your Life. At the start of the show, before the contestant came on stage, Groucho Marx would tell the audience a secret word. In the process of playing the game, if the contestant stumbled upon the secret word, a duck would drop from the ceiling and give the contestant $100.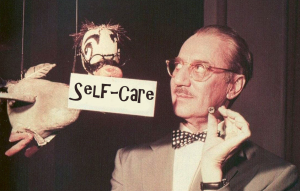 All of this is a very roundabout way for me to tell you, the caregiver of a person with autism, a secret word that I hope you never forget…SELF-CARE.
You've probably already heard this from people with the best intentions but I'll say it anyway (and then duck as you attempt to throw something at me), you can't take care of others if you don't take care of yourself.
I know, this is easy for others to say. They don't understand that your life revolves around a situation which makes planning impossible. You can't set aside time to exercise. A traditional family meal is a luxury. And time to sit quietly, reflect, and meditate? Nope.
It's been thirty years since I let go of my Marx Brothers fixation (photographs in my office notwithstanding). Most recently I've changed the target of my obsession to helping others find ways to care for themselves without compromising their obligations and passion for their families or their careers.
I've written a book and many articles that put forth strategies to achieve this balance. There is no single solution for this conundrum that works for everyone. Since I don't know you personally, I can't in good conscience tell you what you can and should do. I can come up with some questions you can ask to begin exploring solutions.
You live a life of daily struggle. Do you have five minutes a day to reflect on anything good someone has done for you and the good you're doing for others? All new age hooey aside, research proves that intentional moments of gratitude and self-affirmation have positive mental and physical benefits.
When you get a chance to eat, are there ways you can make sure you get high quality protein
and some vegetables in every meal? Forget about diets, if you can do this, you are optimizing
your nutrition.
If you're interested in meditating but can't find time, is there a brief moment during the day that
you can take few deep breaths and focus on nothing but the sensation and quality of those breaths? If you can, you're meditating.
These are just a few ideas. If you want to learn more, feel free to check out my blog at KarmaSenseWellness.com. Or reach out to me directly from that site and say the secret word "Self- Care." You won't get $100, but you will get my attention and support as you pursue what's most important to you.
About Dave "Davey H" Hellman: Dave is a certified Exercise Nutritionist and a graduate of Duke University's Integrative Health Coach program. He operates his coaching practice at KarmaSenseWellness.com and is the author of The Karma Sense Eating Plan, a sincere and playful guide on achieving greater health and happiness. He donates all profits from the sale of this book to charities that fight poverty and hunger.
Related Links
H.R.3099 – RAISE Family Caregivers Act
S.1719 – RAISE Family Caregivers Act