August 29, 2016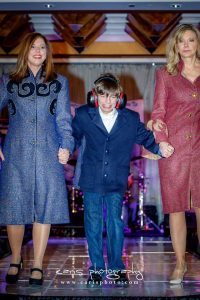 On September 12th, SafeMinds will again host "Fashion Rocks Autism," highlighting the best clothiers and boutiques in Baltimore, and featuring acclaimed AC/DC tribute band, "High Voltage." The event will take place in the beautiful and historic Grand Baltimore. Baltimore news icon and autism mom Mary Beth Marsden will emcee the event.
Models at Fashion Rocks Autism include people with autism, family members of people with autism, Baltimore business leaders, local news personalities, and local sports stars. Baltimore Raven Kamar Aiken will return to the runway, bringing numerous Raven teammates with him to support the cause. Netflix's "House of Cards" actor Lamont Easter will also rock the runway.
Clothiers showcasing their designs include Ella Pritsker Couture, Christopher Schafer Clothier, Tuxedo House, Sassanova, Kelsey's Kloset Boutique of Howard County, and Macy's of White Marsh. Lana Rae, producer of Fashion Awards MD has volunteered to produce the charity event. AboutFaces Day Spa and Salon stylists are providing hair and make-up designs, and the company has also generously donated a spa day for auction.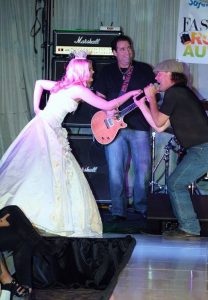 Baltimore jewelry giant Radcliffe Jewelers is designing custom autism education and advocacy jewelry that will be sold at the event, featured in the Show, and available for order online after the Show through SafeMinds. Baltimore-based Radebaugh Florist is providing all of the beautiful flowers for the event. Numerous vendors, ranging from investment banking firms to personal service providers, are participating as exhibitors.
SafeMinds Executive Director Lisa Wiederlight stated, "On September 12th, so many segments of the Baltimore community will come together to raise funds for autism education, outreach, advocacy, and research. We are very thankful for their collaboration and for their assistance in raising funds so that we can achieve a significant improvement in the health, independence, and happiness of people with autism and their families."
Event sponsors so far include The Grand Baltimore, Radcliffe Jewelers, AboutFaces Day Spa and Salon, the Ed Reed "Eye of the Hurricane" Foundation, Mike Shelah Consulting, Renegade Communications, and various private foundations. Media sponsors include Baltimore STYLE and Baltimore's Child magazines, MyCity4Her, Downtown Diane, and HeidNSeek Entertainment.
Tickets are still available online now. But what if you can't make it? You can still support the Show and SafeMinds in two ways:
1) Still use Eventbrite and donate online to buy a ticket for someone in the Baltimore disability community who could not otherwise afford to enjoy the Show
2) Go to our Razoo page to help "Stock the Shelves" with goods and services we need to run the Show. SafeMinds appreciates any and all support of this huge event!
Stay tuned for a review of the Show after September 12th including pictures of the models, guests, and the SafeMinds Autism Epidemic Rubber Duck!